[mk_page_section bg_color="#e11936″ bg_position="center center" bg_repeat="no-repeat" min_height="245″ full_width="true" padding_top="0″ padding_bottom="0″ sidebar="sidebar-1″]

[mk_image src="http://president.uofcincy.events/wp-content/uploads/2018/06/screen-shot-2018-06-27-at-2.07.09-pm.png" image_width="820″ image_height="245″ svg="true" align="center" margin_bottom="0″ crop="false"]

[/mk_page_section]

[mk_fancy_title style="true" color="#dd1111″ force_font_size="true" font_style="normal" font_family="none" align="center"]
University of Cincinnati All-University Summer Commencement 2018
Friday, August 3, 2018
At Northern Kentucky University's BB&T Arena
 Ceremony begins at 2:00 p.m. ceremony (doors open at 1:00 p.m.)
NOTE: With one primary entrance to this location, this area is often congested with traffic.  Please plan accordingly.
[/mk_fancy_title]
BB&T Arena:   500 Louie B. Nunn Drive, Highland Heights, KY  41076 (building is marked with star on the map).
Board of Trustees Parking
Park in the lot with the loading dock for BB&T Arena (look for the orange door on the rear of the building).
Directions from Nunn Drive:

Nunn Drive (west)
Half circle around the turn-around circle to University Drive (south)
First Entrance on Left (Back of BB&T Arena)
Board of Trustees/Stage Party Entrance
Enter the orange door located at the back of the BB&T building, the loading dock area.
If unable to climb steps, there is a ramp to the left of the orange door (left of the truck parked in this picture) that can be entered too.
You will be greeted by a volunteer for directions inside the building.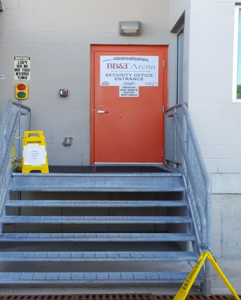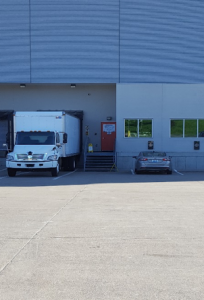 [mk_button size="large" url="http://president.uofcincy.events/commencement-stage/commencement-directions-map/" align="center"]Map[/mk_button]